Show results for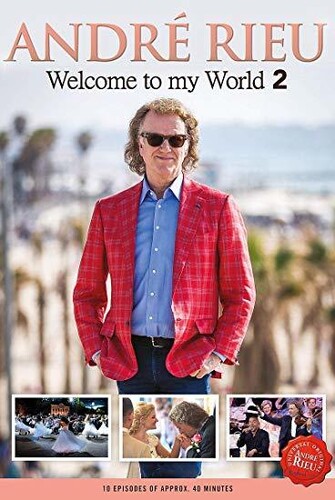 Product Description
New DVD Welcome to my World II
André Rieu is back with a brand new series! After the huge success of Welcome to My World the audience wanted more! So, the cameras returned to follow André Rieu and his Johann Strauss Orchestra on their latest worldwide tour, capturing all the action both on and off stage. It's a unique insight into the life of the most popular violinist in the world; from staging his first ever concerts in Romania to rehearsals with 150 waltzing couples and even organizing a wedding.
The spectacular 3 DVD Box Set with ten episodes will be released on 26. July 2019.
Join André when he welcomes you to the magical kingdom of Maastricht where he loves to make dreams come true: his fans enjoy an exclusive tour of his castle and an 11 year old violinist is overjoyed to join André on stage. Take a trip down memory lane: From André's church choir days to The Salon Orchestra and sell out concerts around the world.
Dance the night away with Lou Bega performing his classic Mambo No.5. Enjoy the magic of 150 waltzing couples on the Vrijthof for a night to remember and celebrate the engagement of one of his sopranos for whom André organises a lavish wedding. Featuring all the behind the scenes action from the ceremony and some classic performances from the bride to be, Mirusia Louwerse, including: Some Day my Prince Will Come, Ave Maria and Memory.
The cameras then follow him touring the world celebrating the music of his classical heroes including Johann Strauss and Franz Lehar. André pays an emotional tribute to the 1930's Comedian Harmonists who were persecuted by Nazi regime.
He performs his first ever concert in Bucharest joined by Romanian pan flute legend Gheorghe Zamfir for a special performance of The Lonely Shepherd. In Chile he enthralls with an emotional performance of Besame Mucho, in Peru he wows with the epic Ode to Joy and he finds time to explore the vibrant city of Bangkok as he performs his first ever concert in Thailand.
In December André returned to London for a romantic Christmas concert filled with festive songs including; O Holy Night, Hallelujah and Jingle Bells. And of course he treats his orchestra to a Christmas feast and an evening at the Christmas market.
His fans all over the world can now finally enjoy the exciting new season, WELCOME TO MY WORLD II - including many highlights from concerts all over the world and fascinating backstage images – on DVD from the comfort of their own living room. Get your backstage ticket to the life of André Rieu now!
Welcome To My World 2 André Rieu, Johann Strauss Orchestra
Details
| | |
| --- | --- |
| Product Type: | DVD |
| UPC: | 7444754878806 |
| Item #: | 2194672X |
Technical Information
Street Date:
12/6/2019
This product is a special order