Show results for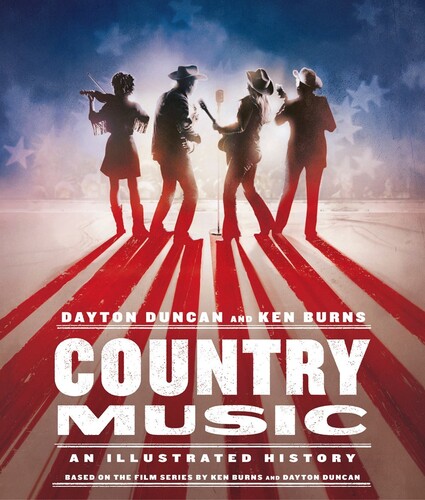 Details
| | |
| --- | --- |
| Brand: | Knopf |
| Features: | Hardcover |
| UPC: | 9780525520542 |
| Item #: | 2200418X |
| Available Date: | 9/10/2019 |
| Model Number: | 9780525520542 |
COUNTRY MUSIC
Summary
The rich and colorful story of America's most popular music and the singers and songwriters who captivated, entertained, and consoled listeners throughout the twentieth century—based on the upcoming eight-part film series to air on PBS in September 2019
This gorgeously illustrated and hugely entertaining history begins where country music itself emerged: the American South, where people sang to themselves and to their families at home and in church, and where they danced to fiddle tunes on Saturday nights. With the birth of radio in the 1920s, the songs moved from small towns, mountain hollers, and the wide-open West to become the music of an entire nation—a diverse range of sounds and styles from honky tonk to gospel to bluegrass to rockabilly, leading up through the decades to the music's massive commercial success today.
But above all, Country Music is the story of the musicians. Here is Hank Williams's tragic honky tonk life, Dolly Parton rising to fame from a dirt-poor childhood, and Loretta Lynn turning her experiences into songs that spoke to women everywhere. Here too are interviews with the genre's biggest stars, including the likes of Merle Haggard to Garth Brooks to Rosanne Cash. Rife with rare photographs and endlessly fascinating anecdotes, the stories in this sweeping yet intimate history will captivate longtime country fans and introduce new listeners to an extraordinary body of music that lies at the very center of the American experience.
About the Author
DAYTON DUNCAN, writer and producer of Country Music, is the author of twelve other books, including Out West: An American Journey Along the Lewis and Clark Trail, in which he retraced the historic route of the expedition. He has worked with Ken Burns as a writer and producer of documentary films for nearly thirty years.
KEN BURNS, the producer and director of numerous film series, including Vietnam, The Roosevelts, and The War, founded his own documentary film company, Florentine Films, in 1976. His landmark film The Civil War was the highest-rated series in the history of American public television, and his work has won numerous prizes, including the Emmy and Peabody Awards, and two Academy Award nominations. He lives in Walpole, New Hampshire.
Product Details
HArdcover: 560 pages
Publisher: Knopf
History / United States / 20Th Century