Show results for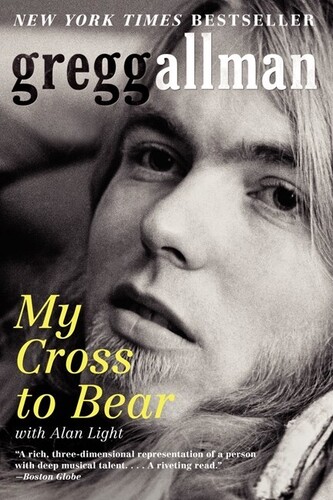 MY CROSS TO BEAR
Summary
New York Times Bestseller
For the first time, the rock icon and founding member of The Allman Brothers Band tells the story of his life, including the music, the band, the tragedies, and the triumphs
As one of the greatest rock icons of all time, Gregg Allman has lived it all and then some. Now, he tells the unflinching story of his life, laying bare the unvarnished truth about his wild ride that has spanned across the years.
The story begins simply: with Gregg and his older brother, Duane, growing up in the South, raising hell with their guitars, and drifting from one band to another. But all that changed when Duane and Gregg came together with four other men to forge something new—a unique sound shaped by soul, rock, and blues and brimming with experimentation; a sound not just of a band, but of a family.
Bringing to life the carefree early days of the Allman Brothers Band, Gregg holds nothing back—from run-ins with the law to meeting girls on the road, from jamming at the Fillmore East to experimenting with drugs. Along the way, he goes behind the scenes of some of the greatest rock music ever recorded, without shying away from the infamous and painful deaths of his brother, Duane, and Allman Brothers bassist Berry Oakley. Speaking for the first time about the profound impact that his brother's death had on him, Gregg offers a tribute to Duane that only a younger brother could write, showing how, to this day, he still confronts the grief of losing his big brother, even as Duane continues to guide and inspire him.
Setting the record straight about the band's struggles in the face of death, Gregg shows how the decision to persevere came with a heavy price. While the rock and roll excesses of drugs, alcohol, and personality clashes led to a series of breakups that culminated with the band's permanent reunion in 1989, Gregg fought his own battle with substance abuse and failed marriages, including his tabloid-frenzied relationship with Cher, before finally cleaning up once and for all.
Capturing the Allman Brothers' ongoing, triumphant resurgence as well as his own recent fight against hepatitis C, Gregg presents a story as honest as it is fascinating, providing a glimpse inside one of the most beloved and notorious bands in the history of rock music and demonstrating how, through it all, the road goes on . . . forever.
About the Author
Gregg Allman is one of the original members of the Allman Brothers Band and a legend of American music. A recipient of a Grammy Lifetime Achievement Award, he was inducted into the Rock and Roll Hall of Fame in 1995 and continues to make music as a solo artist and with the Allman Brothers. A multiple Grammy Award winner, he has sold millions of records around the world, with his most recent album, Low Country Blues, debuting at No. 5 on the Billboard chart. He lives in Georgia.
Product Details
Paperback: 400 pages
Publisher: William Morrow Paperbacks
Biography & Autobiography / Composers & Musicians